Yooo
Went to AMS yesterday....
First of all lots of very nice Bizjets parked at Schiphol East !
Then went to RWY 06, nothing special, just Icelandair B757wl...
After that I went to the 36R for some nice evening pics...
And then, the take-off party for the first B737-800 for ArkeFly !!
Here are some pics:
PH-TFA:


5Y-KYZ: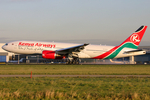 PH-BFD:

PH-BQD:

PH-MCR:

Ciao
Thomas